Plant-based diets have been associated with a variety of health benefits, including lowering risk of heart disease, cancer and diabetes. The World Health Organization claims that plant-based eating is an environmentally responsible way to eat. There are several plant-based food delivery services available today, among them are Splendid Spoon and Sakara.
I'm certain that while all of these plant-based meal services are distinctive in their own way, you'll discover exactly what you're searching for.
Splendid Spoon vs Sakara: Which One is Best For You?
Many individuals believe that plant-based meals have to be pricey. They also believe that the more money you spend, the better the meal is.
But this isn't always true. Finding the ideal option for you might take a little time and study.
There are several meal plans available, ranging from $20 to $300. Make sure you understand what you're receiving for what you're spending before making a selection. When it comes to plant-based foods, I believe that choosing a cheaper, nutritious meal is better.
Splendid Spoon Overview
The service offers quick, simple and delicious meals for breakfast, lunch, and dinner. The three things that come to my mind to describe this business: gluten-free, plant-based and ready-to-eat. You have the option of having a fixed weekly menu or creating your own with over 50 choices.
They're ready to go and the best part is that they've already been cooked and sent to your home. All you have to do now is chill them in the fridge until you're ready to open and eat.
You'll need to sign up for a membership or obtain a subscription, but the procedure is simple and straightforward.
Splendid Spoon Price
There are three different options to select from. The first option is breakfast items for $65. For $115 to $135, you may upgrade to the second plan, which includes both breakfast and lunch each day as well as a one-day soup reset.
Splendid Spoon offers breakfast, lunch, dinner and one-day soup reset starting at $165 to $185. You may choose whether you want monthly, bi-weekly, or weekly deliveries.
Benefits of Choosing Splendid Spoon
The finest advantage is definitely the customized meals. They also have smoothies for a quick breakfast, which is excellent for a busy person like me. It makes it really easy for me to get up, open the smoothie and start eating my breakfast since I'm a busy individual.
You may get something new every day with 14 smoothies and 27 soup/grain bowl selections. Ingredients over calories is the guiding principle of Splendid Spoon. The protein in each smoothie comes to 3.527 grams per serving, which helps you stay fuller for longer throughout the day.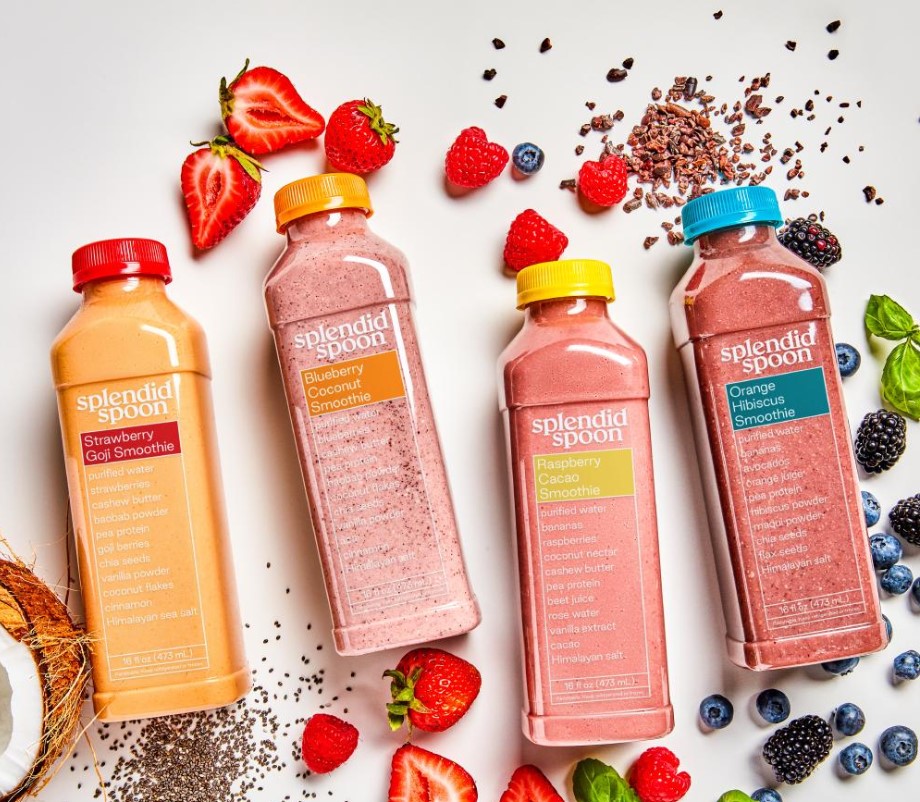 Check out Splendid Spoon vs Sakara to find out their key differences.
Sakara Overview
Sakara offers healthy meal plans developed with Cutting Edge nutrient solutions. The meals are prepared by cutting-edge nutritionists and medical experts who understand what it takes to thrive.
Aside from being delicious, Sakara meals are fresh and nutritious. Based on a Whole Food, plant-rich diet, this organic meal delivery program offers nine and trim pillars.
Sakara Price
Organic, gluten-free, sugar-free, non-GMO, plant Ridge super meals from Sakara are delivered to you. Sakara meals start at $210 for three days' worth of breakfast, lunch and dinner for five days; it's $420. Being one of the more expensive programs, they promise to deliver fresh, nutritious food without causing you any hassle.
Benefits of Choosing Sakara
Sakara works with doctors and individuals that are knowledgeable about plants and how they interact with our bodies. Eating healthy makes you feel wonderful. It may alter your disposition and aid digestion.
Plant-based foods help to maintain a healthy gut, which is crucial for a well-functioning immune system. Eating a plant-based diet aids in the treatment of numerous health problems while boosting your body's defenses against bacteria and viruses.
Sakara believes that looking at a lovely meal in front of you is enticing. This is why they prepare their meals all rainbow to appeal to the eye. It's something going on in your head that sees how beautiful the colors are that makes you want to eat them.
Sakara vs. Splendid Spoon: Which is Best?
All of these plant-based businesses are fantastic in their own ways. Studying all of the nuances and learning about the food's origins and which firms take pleasure in what they produce was difficult to do.
Choose between the magnificent Splendid Spoon and Sakara based on their many distinctions, such as price, components, and the kinds of meals they provide. I made my decision based on being a middle-class American with a tight budget who needed to feed adults and kids.
We all know that the foods sold at supermarkets aren't very healthy and they're also prohibitively expensive.
Sakara goes above and beyond to provide the best plant-based cuisine for clients. They add unusual ingredients to pre-prepared meals, distinguishing them from other food companies. When I look at their website, however, the high cost of their dishes astonishes me.
I appreciate Splendid Spoon's fantastic value of $9 per smoothie soup, as well as the 14 distinct kinds of smoothies and 27 different types of soups. They aid people in losing weight while maintaining a healthy glow.
Here's a quick comparison between Splendid Spoon and Veestro