Meal delivery is convenient, first and foremost, which is an undeniable truth about most of them. It's also uncertain whether a certain meal subscription service will create pre-made lunches and dinners that are nutritious, good for you, and worth the money.
When it comes to meal delivery that is ready-to-eat, there are bound to be some successes and failures. Even in a well-run business, you're likely to encounter meals that taste fantastic and others that aren't so great.
Knowing these factors, the goal is to discover the meal delivery service that offers you with the most delicious and nutritious meals on those evenings or days when you don't want to cook but still want something delectable.
I hadn't heard much about the company before I started my review of Trifecta and Fresh N Lean, but from basic website and marketing lingo, it was clear that they were health-conscious meal plans for those who wanted to eat well.
Trifecta vs Fresh N Lean: Which One Is Best for You?
With several other prepared meal providers trying to attract the same demographic, I wanted to know how Trifecta and Fresh N Lean stacked up in a taste comparison. So, I unpacked and ate my way through two weeks' worth of meals to assemble this firsthand assessment.
Trifecta Overview
Trifecta is a meal delivery service with Keto, Paleo, Vegetarian, Vegan and Standard on the menu. Each week you may pick from a range of dinners, lunches, and breakfasts supplied in the box. Unlike meal kits, this sort of meal delivery service delivers fully cooked meals to your home instead of premade portions.
I received my first Trifecta box promptly at my home. Everything was packaged up nicely, with ice packs keeping the food cool. When I opened the box, I was greeted by a pleasant surprise.
Source: Trifecta
Trifecta Price
A normal Trifecta delivery will set you back $108.43 for seven lunches. This is $15.49 per meal. In my opinion, it's a bit pricey.
Benefits of Choosing Trifecta
Trifecta Nutrition is a health food company dedicated to providing nutritious, heat-and-eat meals with lean protein and low carbohydrates.
Trifecta Nutrition meals are high in quality and include organic USDA-certified components. This implies that their food is never frozen, as it is wild-caught seafood and grass-fed animal products. There are no artificial chemicals or processed items in their meals, and they are soy-free, gluten-free, and dairy-free.
We should note that their items are produced locally by family-owned businesses. The most important thing is to give fresh and nutritious fruits and vegetables to their clients.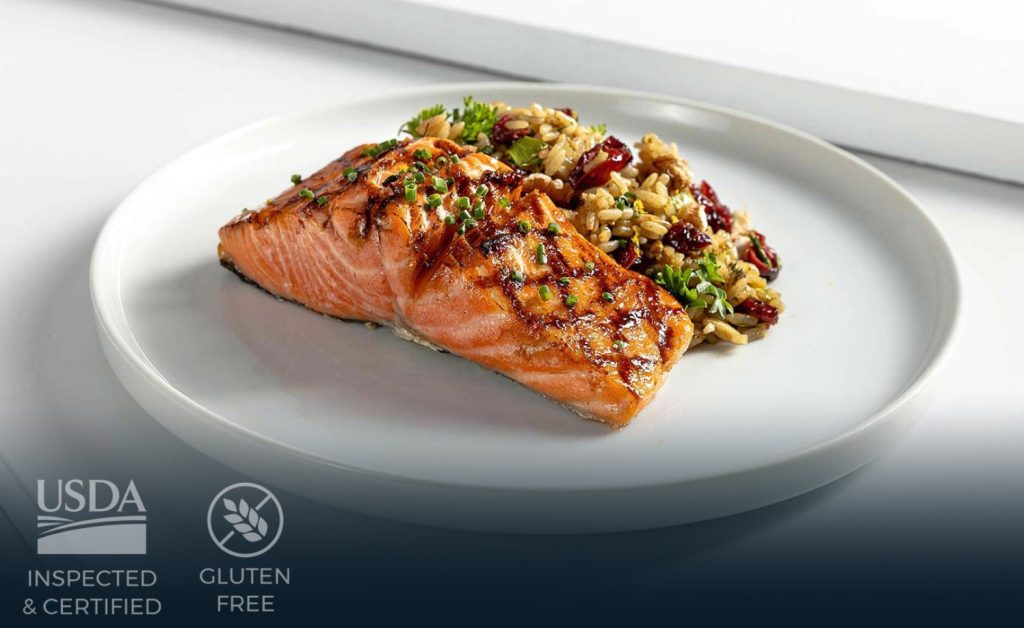 Fresh N Lean Overview
Fresh N Lean is a weekly organic prepared meal subscription service, so it offers pre-prepared and vacuum-sealed meals to your home every week, unlike a "cook it yourself" meal kit company. There are five different meal plans to choose from: Protein Plus, Paleo, Keto, Vegan (or Low-Carb Vegan).
Fresh N Lean is more flexible. You may pick and choose which components to exclude, such as eggplant or fish. You can also list your food allergies separately. You can also see what meals are available for the current week, so you have a better idea of what to anticipate.
My meal kits came in a ClimaCell TemperPack-lined box, which kept the food cold. Fresh N Lean meals are never frozen, and they stay good for a few days in the fridge. You can freeze Fresh N Lean's food to extend shelf life, but the taste may suffer.
Fresh N Lean Price
Fresh N Lean's prices are comparable to those of standard meal kits at around $9 to $12 per serving. The most popular subscription plan (one breakfast meal each day for five days) costs slightly more than $50 in delivery. At least $85 is required for a bespoke box and shipping is absolutely free.
Benefits of Choosing Fresh N Lean
The Fresh N Lean have implemented the heat-and-eat approach, and meals are delivered in vacuum-sealed packaging.
They have around 50 items on their a la carte menu right now, including breakfasts, lunches, and dinners, as well as five or seven-day delivery. Protein +, keto, paleo, standard vegan diet (or just plain old vegan), low carb vegan diet (or simply called vegan), whole30 meal alternatives are their options.
Fresh N Lean N Fresh excels in providing high-quality ingredients. You can see this in their food safety procedures and accreditations. In fact, they are USDA-certified and FSMA-compliant.
Lean N Fresh's meals are gluten-free and GMO-free, and they use organic ingredients. Customers may filter common allergies and customize orders to their liking, while meals are also dairy-free.
Trifecta vs Fresh N Lean: Which is Best?
It was a tight race between these two meal delivery services, because they provide comparable plans, organic components, and fresh dishes to your home. However, I must give Trifecta Nutrition the edge since they offer more meal variety and all of their ingredients are organic, no exception.
Lean N Fresh meals, like Trifecta Nutrition, have comparable features and are less expensive. It is ultimately up to you to pick the delivery services you will accept.